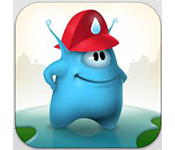 Sprinkle: Water splashing fire fighting fun!
Ready, aim, squirt! Join over eight million players in this wet physics puzzler! Using a water cannon mounted on a crane, players must adjust the height and angle of the cannon to fight fires, move obstacles, spin wheels and activate traps in this challenging water-physics based puzzler! But squirt carefully as you will run out of water and the less water you use, the more drops you earn! Using some of the most realistic water physics seen on an iOS device yet, Sprinkle is a brain-teasing game that will have players straining to figure out each puzzle and obstacle.
Comments: Compatible with iPhone 3GS, iPhone 4, iPhone 4S, iPhone 5, iPod touch (3rd generation), iPod touch (4th generation), iPod touch (5th generation) and iPad. Requires iOS 4.3 or later. This app is optimized for iPhone 5.
Genre: Action
SubGenre: Platformer
ESRB: Everyone

Current Download Rank: #1000

Sprinkle: Water splashing fire fighting fun! Screenshots