Top Games In This Franchise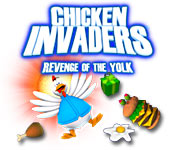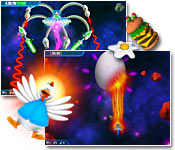 Chicken Invaders 3
Read Our Review
Aliens are invading from a different planet...and it turns out they're chickens! Angered by the way they've been treated on Earth by us Humans, the chickens are on a war path in Chicken Invaders 3! In this hilarious Action & Arcade game, take to your spaceship and put an end to this fowl invasion. As the old saying goes, "You can't make an omelet without cracking a few eggs...and skulls!"
30 bonuses and 13 medals to win.
120 waves of chicken invaders.
12 star systems to explore.
Genre: Action
SubGenre: Shooter
ESRB: Everyone
Free Trial: Yes
Current Download Rank: #5101

Chicken Invaders 3 Screenshots