Welcome to our Cat Story Walkthrough, where you'll join some brave if a bit bizarre felines as they attempt to recover from their shipwreck and build a new life on the island they landed on in this free-to-play sim / time management game. Complete quests, upgrade buildings, and collect resources to create a thriving new home for your feline friends.
Our Cat Story Walkthrough will help guide your first steps as you venture into uncharted territory with helpful information and tips on how to play as well as detailed information on resources and buildings.
Please enjoy our Cat Story Walkthrough!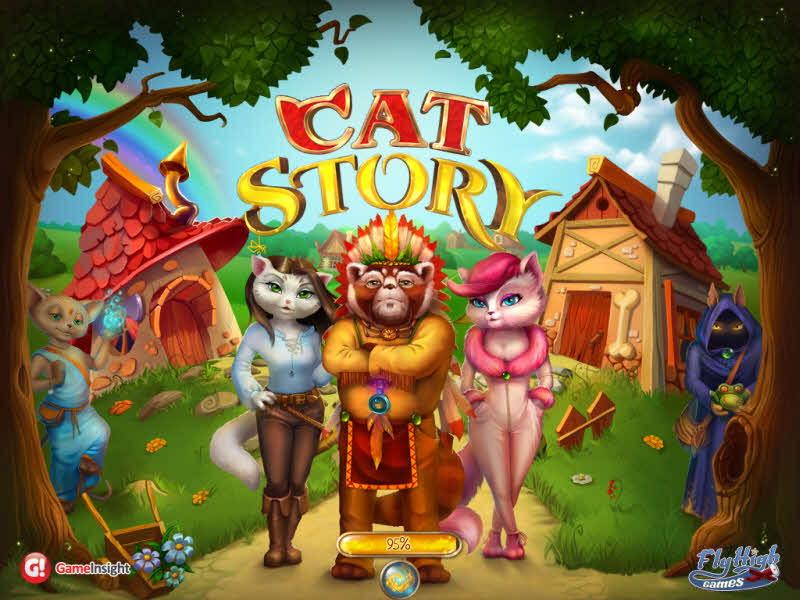 Getting Started with Cat Story
Downloading the Game: The first step to enjoying this match 3 adventure is to download Cat Story. Simply click the Buy link above or click here now to get started.
Game Objective: The objective is to help your feline friends explore their new home and build a village they can be comfortable in.
Quests - As you play Cat Story, you'll be given certain quests for you to tackle. Each quest will provide you with rewards such as gold coins, stars, or food. You'll see active quests on the left part of your screen. Your active quests are on the left hand part of your screen. Click on each to see the goals for each quest and your progress that you've made for each.
Characters - Your characters will walk around the screen. Tap on them and they will wave to you - Hello!
Levels - The more quests you accomplish, the more experience you will earn. This will allow you to level and open up new quests and items for you to purchase in the store.
Resources - When you accomplish a task, clear debris, or collect resources from a building, the resources will appear on your screen. You can either tap to collect, or just wait a few seconds and they will be collected on their own.
Stars - Stars are your experience points in the game. Collect these to advance to the next level.
Coins - Coins are the primary source of currency in Cat Story. Use these to buy important upgrades for your village.
Gems - Gems are the secondary source of currency in Cat Story and can be used to buy special items for the store.
Resources - Resources can be collected from various buildings and structures throughout the game. For more information on resources, visit our resource section.
Debris - Click to clean up debris and clear the land so you'll have more space on your island.
Building Upgrades - You can upgrade a building by clicking on the building and then clicking on three green arrows on the side of the building. This will bring up a screen that will show you the necessary items you need to upgrade. Click the upgrade button to upgrade the building.
Store - To access the store, click on the large icon on the bottom left of your screen with the money bag on it. Here you can access all the items you can purchase during the game.
Achievements - As you play Cat Story, you can earn achievements that will provide extra rewards. For a list of all the achievements you can earn, go to our Cat Story Achievement section.
Backpack - Your backpack is in the top right hand corner of your screen and stores all the items and resources that you've collected as you play.
Daily Bonus - If you play Cat Story every day, you'll receive a daily bonus.
Social - You can connect your Cat Story game to Facebook and Twitter to keep up with your friends' progress with the game. You'll be given a reward for each social channel you connect.
And that's the basics for playing Cat Story! We hope you enjoy our Cat Story Walkthrough!